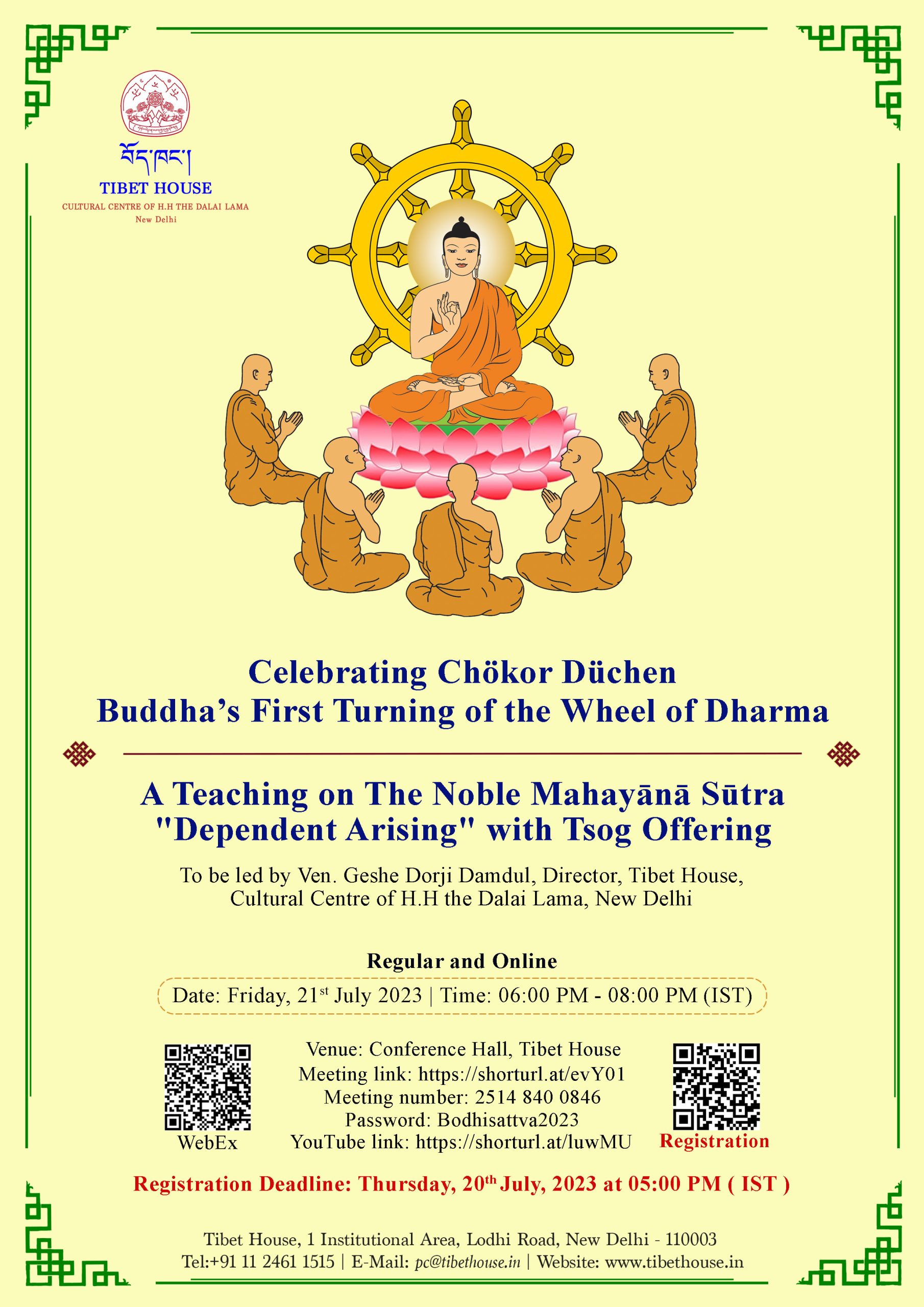 Chökor Düchen Celebration: Buddha's First Turning of the Wheel of Dharma
Welcome to the grand celebration of Chökor Düchen, a precious occasion that marks Buddha's first turning of the wheel of Dharma. We invite you to join us in this momentous event where Ven Geshe Dorji Damdul la, an esteemed teacher & Director at Tibet house( New Delhi ), will lead the session, sharing profound teachings on the Noble Mahayānā Sūtra. The session will be accompanied by a Tsog offering, creating a sacred atmosphere of spiritual growth and enlightenment.
Event Details:
📅 Date: Friday, 21st July 2023
⏰ Time: 06:00 PM (IST)
📍 Venue: Conference Hall, Tibet House, Delhi
Registration and Participation:
To ensure your participation in this enlightening event, please register before Thursday, 20th July 2023, 05:00 PM (IST). Registering is easy! Visit the registration link here and complete the registration form.
WebEx Online meeting Information:
🌐 Meeting Link: https://shorturl.at/evY01
Meeting Number: 2514 840 0846
Password: Bodhisattva2023
For those unable to attend in person, we offer the opportunity to join the session online through the provided meeting link. Simply click the link above to access the virtual session and enter the meeting number and password when prompted.
Watch Live on YouTube:
We understand that physical or online presence may not be possible for everyone. If you are unable to attend, you can still be part of the celebration by watching the event live on YouTube. Tune in to the live stream at https://shorturl.at/luwMU and engage with the teachings from the comfort of your own space.
Spread the Word:
Help us make this celebration even more memorable by spreading the word to your friends and family. Invite them to join us on this joyous occasion of Chökor Düchen and experience the profound teachings of the Noble Mahayānā Sūtra.
We look forward to your presence and participation in this auspicious celebration. Let's come together to honor Buddha's teachings and deepen our spiritual understanding on this special day.