TIBET HOUSE NALANDA CERTIFICATE COURSE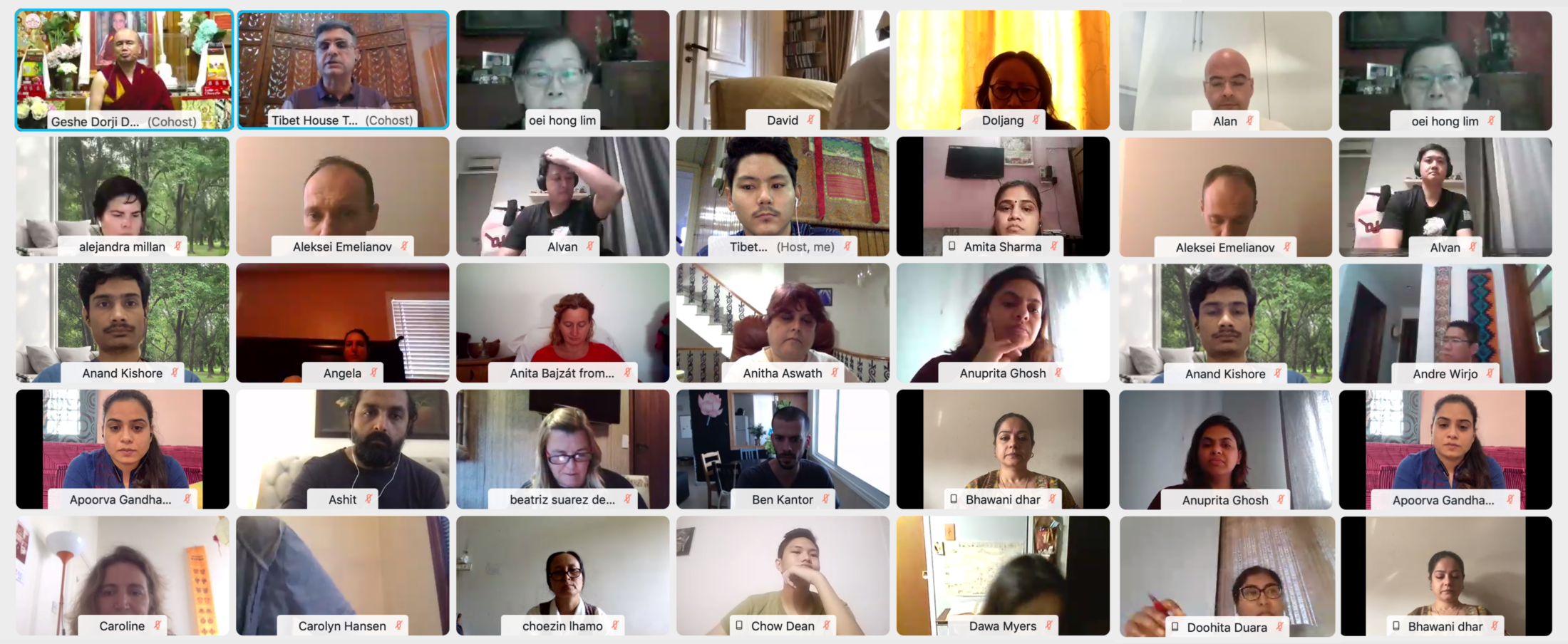 Video message for the Nalanda Certificate Course applicants from the Director, Tibet House
Online Registration - Nalanda Certificate Course
Nalanda Certificate Course - Details and FAQs
Nalanda Certificate Course FAQs
Q1) In which language teachings will be given for this course?
The teachings will be given in English for all the subjects.
Q2) What is the duration of the course?
The course teachings will be from the first week of June 2022 to the first week of Aug 2022. There will be an online quiz which will be available from mid-Aug 2022 till mid-Sep 2022.
Q3) Who can apply?
Anyone who genuinely wants to study, understand and apply these concepts in their life, from the rich Nalanda legacy is eligible and welcome to join. One should have willingness and commitment to learn and put effort in learning.
Q4) Is it necessary to join this course for NMC2?
If one is interested in the Nalanda Masters Course Batch 2 (NMC2), which many students have been waiting to join since years ago as it is once in 5 years,  then the participants of this course will automatically qualify to join NMC2. Besides this course any participant from any of the previous Tibet House Nalanda Courses automatically qualifies for NMC2.
Q5) Will Live streaming of teachings be available?
There will be live streaming of the classes for this course and also the audio & video recordings will also be made available.
Q6) How soon the Audio/Video Recordings will be made available?
Tibet House, Delhi will make every attempt to make audio/video recordings available within 3 working days after teaching session has taken place.
Q7) What is the difference between Video Recordings and Live-streams?
The live-streams are unedited and with a lower video resolution. The video recordings are edited and have better resolution.
The live-streams are available during and immediately after the class, while the video recordings are available once Tibet House IT team are done with the editing.
Q8) Can Tibet House Delhi provide residential/hostel facilities for the course participants?
Tibet House Delhi will not be able to provide any residential/ hostel facilities for the course participants.
Q9) What is the fees and are any further discounts available?
The regular fees is Rs 800. Monastics and students can avail 75% discount, while participants from any previous Tibet House Nalanda Courses can avail 50% discount.
Monastics just have to declare that they are monastics and inform us the name of the Abbott from whom they received the vows and avail the 75% discount.
An applicant for this course is considered as a student, if she or he is studying in recognized schools, colleges or universities and can avail 75% discount on the course fees. One has to submit copy of their valid photo ID card along with admission details ( like a letter from your institute stating you are admitted with them ).
Q10) How many hours do I need to commit?
On an average about 7 hours per week of teachings are expected to be given for over 9 weeks. If someone has time and inclination, they can give more time based on additional optional reading recommendations.
Q11) When will the course begin?
The expected date for the start of teachings is 05-Jun-2022.
Q12) When will the course end?
The expected date for the end of teachings is 7-Aug-2022.
Q13) Are there any meditation commitments required on behalf of the participants?
There are no commitments for meditation required for this course but participants are encouraged to meditate more regularly. After all the true meaning of meditation is familiarization with what is wholesome, so that we traverse the path to become happier and also help others in becoming happier beings.
Q14) How much is the Course Material fees?
The course material, would be on a cost basis only, which will be very nominal and highly subsidized. Tibet House ships course material world wide. The exact amount will be communicated via email when the course material is distributed.
Q15) Is there a next batch of Nalanda Certificate Course (NCC) planned?
Yes, hopefully there will be second batch of Nalanda Certificate Course (NCC) but the launch of the second batch has not been planned as of now but when it gets finalized, it will be announced by Tibet House, Delhi. But those in the next batch of NCC are not eligible for NMC2 admission.
Q16) What will the teaching schedule like?
The teaching sessions will follow these general guidelines:
1) Two sessions every Sunday
2) One session in the Wednesday evening.
Please note the above may change due to the availability of the teacher and other resources that are required.
Q17) Is the online portal only to submit quizzes?
No, the online portal will also be used by Tibet House to make announcements relevant to this Course. This portal will also allow participants to interact with other via Discussion Forums which can be very useful to clarify doubts. Plus there are many other useful features in the portal.
Q18) Is there possibility to make online payments?
Yes, we accept payments only via online means. Once your application will be approved, we will send the link for payment.
Q19) Is it possible to choose individual subjects from Nalanda Certificate Course (NCC) and just attend those subjects?
No, this is not possible, since there are some concepts and teachings which are taught   earlier which enable participants to understand teachings for later topics more easily.
Q20) What type of questions are asked in the online quizzes? Is there minimum that one needs to score?
The questions asked will be objective questions which have multiple choice answers. Yes, participants need to score 50% or above to qualify for obtaining the certificate.
Q21) What if someone does not submit the quizzes before the expected deadlines?
The online quizzes would be a major criterion, which will be used to award the certificate.
Q22) What if I miss the online class?
You can catch up with the class either via live-streams (they are available after the class also) or via audio/video recordings (available after 3 working days).
We do not record any attendance for any class as these courses are designed for one's own benefit so we will leave it to an individual. So its perfectly fine for anyone to catch up with the classes based on one's time availability.